From February 21st to 23rd, HALO was pleased to host members of the Pediatric Exercise Medicine Network (PEMNet) for a three-day event, highlighting topics in the field of exercise medicine for children. The first two days, led by Dr. Joyce Obeid and Dr. Brian Timmons from McMaster, were filled with productive meetings and presentations on various approaches to monitoring physical activity for children with a chronic medical condition or disability. Bringing together this unique group of international investigators created an environment of excited discussions and opportunities for the HALO team. The energy of the first two days was then brought into a third day of presentations and discussion, where potential collaborations between CHEO and uOttawa's School of Human Kinetics were the primary focus.  Guest speakers included Susan Yungblut from Exercise is Medicine® Canada, Dr. Donald Mabbott from SickKids, Dr. Jean-Luc Bigras from CHU Sainte-Justine and Dr. Craig Williams from the University of Exeter. Educational sessions were followed by presentations from faculty members of uOttawa's School of Human Kinetics (Dr. Kristi Adamo, Dr. Daniel Benoit and Mr. Daniel Crete), who spoke about how the university could contribute to work on pediatric exercise medicine at CHEO. From CHEO-OCTC, Dr. Stasia Hadijyannakis, Dr. Anna McCormick and Dr. Stefan Jankowski presented some of the ongoing exercise research that is being done at CHEO-RI with clinical populations. After a successful three days, the Pediatric Exercise Medicine event concluded with small group discussions and plenty of networking, indicating the "end of the beginning" for research collaborations in this very important field.
Some photos from the event are displayed below: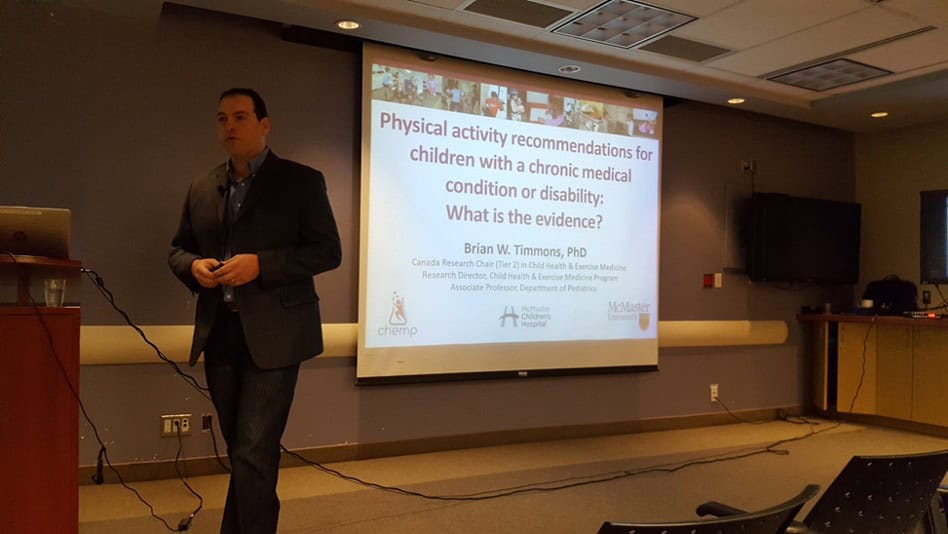 Dr. Brian Timmons presenting development activities of the Pediatric Exercise Medicine Network (PEMNet) at CHEO's Grand Rounds on February 21st, 2018.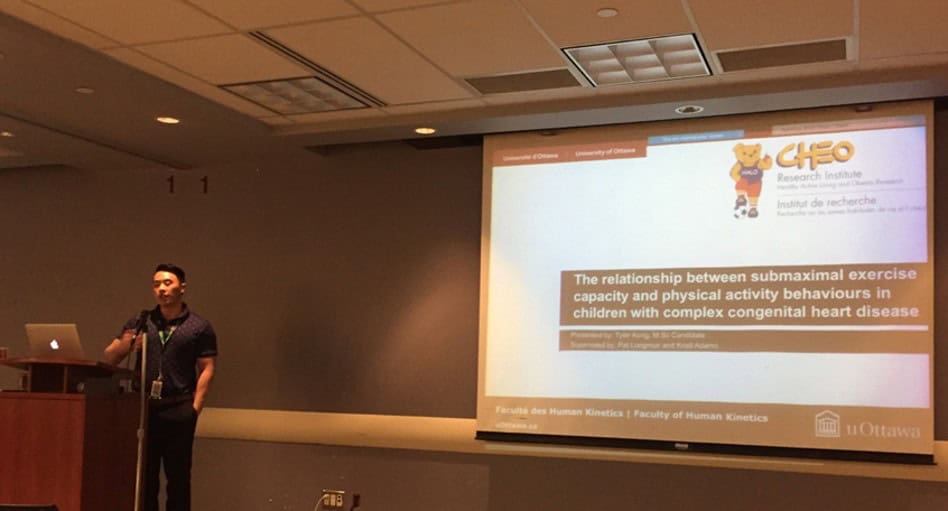 HALO student and Master's candidate Tyler Kung (supervisor Dr. Patricia Longmuir), presenting his research proposal to clinicians at CHEO and Faculty from uOttawa's SHK – February 23rd, 2018.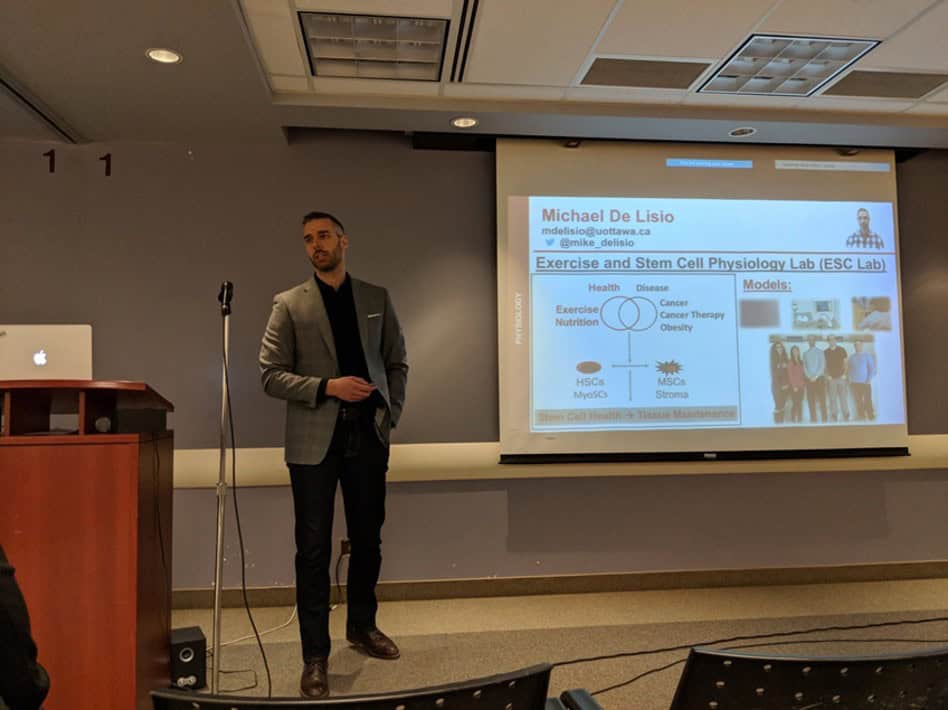 Dr. Michael De Lisio (School of Human Kinetics) speaking on the interdisciplinary approach of his Exercise and Stem Cell Physiology Lab at the University of Ottawa – February 23rd, 2018.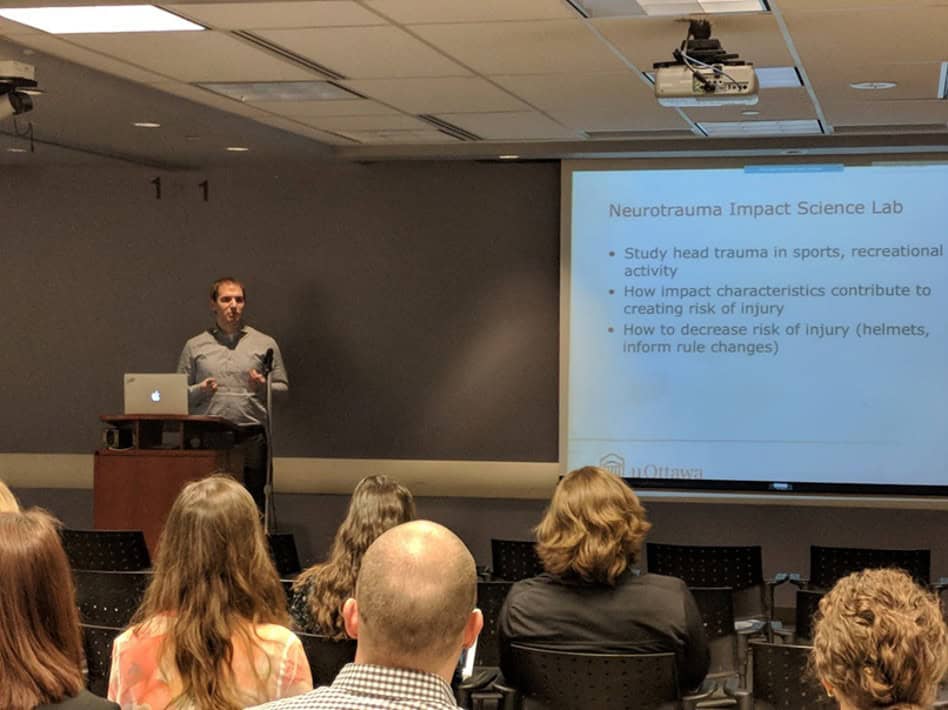 School of Human Kinetics PhD student David Koncan, presenting the work of the Neurotrauma Impact Science Lab at the University of Ottawa on traumatic brain injury and risk prevention in children and youth – February 23rd, 2018.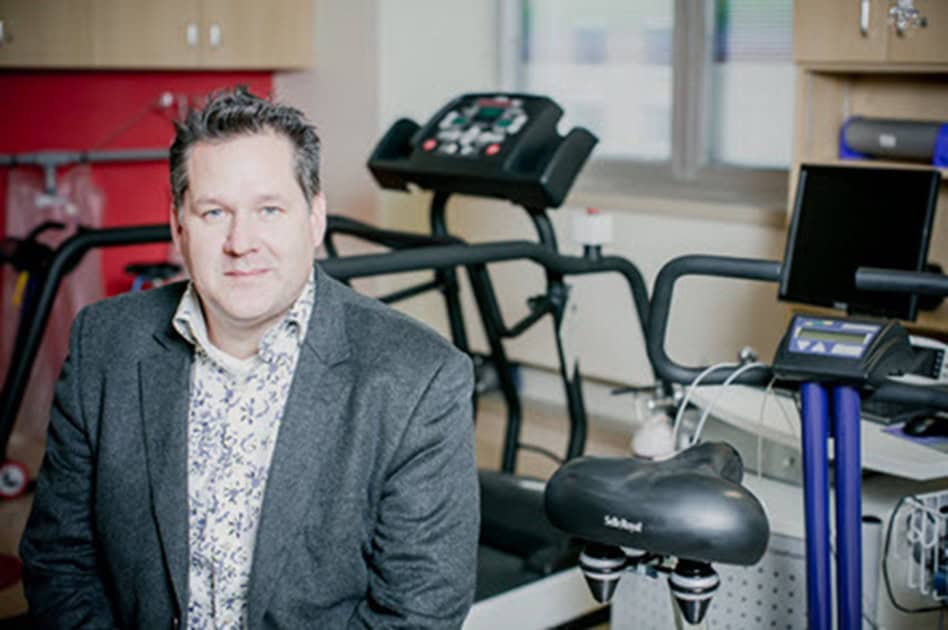 On February 23rd, Dr. Donald Mabbott (SickKids) presented some of his ongoing research to clinicians and staff from CHEO and uOttawa. Entitled "Pediatric Exercise is Medicine in Action: Oncology", his presentation focused on ways to use physical exercise to help brain repair following cancer treatment.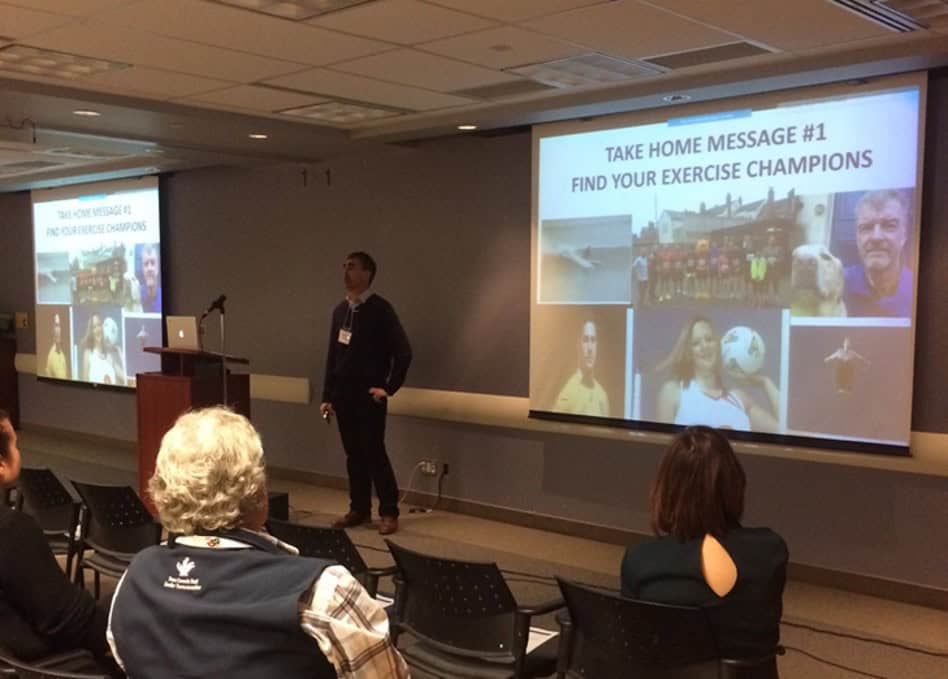 February 23rd 2018 – Dr. Craig Williams speaking about his pediatric exercise medicine research program at the University of Exeter, and the role of "exercise champions".